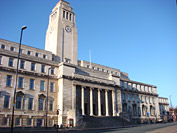 Established in 1904, the University of Leeds is world-famous for academic excellence, cutting-edge research and inspirational teaching. This well-established institution is part of the prestigious Russell Group, consisting of UK's top research-led universities.
The University is ranked in the top 100 universities in the world and its internationally renowned teachers are actively engaged in cutting-edge research. As a student at the University you will learn alongside inspirational academics who share your passion for the subject and who are dedicated to helping you achieve your ambitions.
The University also has an outstanding reputation for graduate recruitment and student experience, scoring 90% for satisfaction in the 2012 National Student Survey.
Hyde Park, Leeds, LS6
Hyde Park is in a perfect location for Students due to its distance to the Leeds Met and the Leeds University. Hyde Park is popular with Students and has a wide range of shops, restaurants, bars and cafes. The Leeds City Centre is just 15 minutes walk but if you're feeling lazy then there is plenty of public transport nearby.
The Leeds City Centre is just 15 minutes walk but if you're feeling lazy then there is plenty of public transport nearby.
The Hyde Park Picture House was first opened on 7th November 1914 which has been showing films and stage performances for more than 100 years. It is the only gas lit cinema remaining in use in the UK and the oldest purpose built cinema in Leeds.
Woodhouse Moor (sometimes referred to as Hyde Park)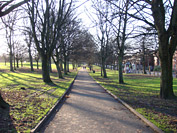 Woodhouse Moor is an open space approximately one mile Today it consists of 3 parts: a formal park, Woodhouse Moor (sometimes referred to as Hyde), of around 26 hectares in area on the west of Woodhouse Lane (the A660), and two other open areas on the east of it. These are known as the Monument (or Upper) and Cinder (or Gravel, or Lower) Moors which are used for events such as circuses and sporting matches, and sometimes car parking.
Whether you want to spend some time to relax or keep fit, the park has playgrounds, allotments, skateboard and BMX park, football pitch, formal gardens, and large areas of grassland.
Headingley, Leeds, LS6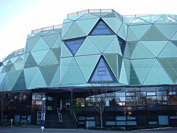 Headingley is a brilliant Leeds suburb populated with Students, Young Professionals and Families. Headingley is notable for being the location of the Beckett Park campus for Leeds Beckett University and the Headingley Stadium. If you love sport then visit the Headingley Stadium. It is the home of Yorkshire County Cricket Club, Leeds Rhinos rugby league team and Leeds Carnegie rugby union team.
The Otley Run is a pub crawl in Leeds starting from far Headingley. The route follows the A660, also known as Otley Road at the point the pub crawl commonly begins. The Otley Run is a popular social gathering for student clubs and societies from The University of Leeds, Leeds College of Music, Leeds College of Art, Leeds Trinity University, Leeds Beckett University and The University of Bradford and is also a common activity for birthdays and other celebrations among graduates and city residents. Participants often wear fancy dress and coordinate their costumes to a particular theme.
Headingley has its own shopping centre known as the Arndale Centre with shops like o2, Greggs, KFC, Costa Coffee, Pizza Express, Lloyds Pharmacy, Post Office, Sainsbury's, Wilkinson, Banks and much more.
Shopping, Eating Out in Leeds
In our compact city centre there's just a short walk between designer stores, high street brands, market stalls and independent boutiques, many of which are housed within breathtaking Victorian and Edwardian buildings. Mix and match to your hearts' content - neither bargain hunters nor big spenders will want to leave empty handed.
The beautiful architecture of the Victoria Quarter's Grade II* arcades make a spectacular setting for a shopping spree. VQ is home to over 75 of the world's leading fashion and lifestyle brands, including Vivienne Westwood, Paul Smith, Louis Vuitton, Mulberry and Illamasqua.
The Grand Arcade is one of the oldest shopping Arcades in Leeds City Centre, and it is well worth a visit as it is the only Arcade within Leeds which is full of Independent Retailers. It's a true haven for anyone who wants to shop somewhere different, and find something not available on the traditional High Street.
The stunning domed roof of Leeds Corn Exchange houses a large number of independent stores ranging from Northern Acoustics, Mad Elizabeth Vintage to Candy Candy and Ju Ju Gifts. With vintage, craft, record and food fairs taking place regularly, there is always something new to discover.
Spread across a tapestry of arcades that traverse three of the busiest shopping streets in Leeds, and covering one million square feet over three levels, Trinity Leeds is a retail beacon. It attracts international brands and boutiques to Leeds and give shoppers 120 sensational shops, stores, restaurants and cafes to explore at their leisure.
Leeds has some fantastic specialist stores, great for getting expert advice on purchases and a truly personalised service. Try OK Comics, Jumbo Records, Leeds Craft Centre & Design Gallery, Gerry's Wines & Spirits, Teddy & Co, Peter Maturi cookware specialists and Yum Yum Beads. You'll find something to suit all hobbies and interests!
You're never far from a fantastic restaurant, cafe or pub in Leeds - perfect for a break from shopping and sightseeing. 
Nightlife in Leeds
The sheer variety and quality of nightlife on offer in Leeds is testament to the fact that this is a city that likes to party. With everything from old fashioned drinking dens to laid back bars and late-night clubs, you won't have to walk far to find something that suits your taste.
Head to the bars on Call Lane for a great party atmosphere, Oporto (recently named Best Night Out in the UK) is popular with local musicians, students and visitors alike. The djs at Norman and Jake's Bar ensure they are always busy, both serving great food too.
For a laid back vibe, North Bar hits the spot. It's Leeds' coolest haunt for lovers of great beer, music and art.
Sophisticated types should make their way to Oracle - a stylish bar with an outdoor Moet terrace overlooking the river.
Live music is the heart and soul of Leeds nightlife, and we've got plenty of large scale and intimate venues to catch the latest bands in. The Wardrobe attracts a variety of big names, as does The Cockpit - a Leeds favourite, also known for it's club nights.
Dancing til dawn should always be attempted when you've got great clubs like Mission and Mint Club to choose from.
Entertainment in Leeds
Leeds is a hotbed of creative cultural talent, and it enjoys a reputation for producing spectacular and innovative shows.
Thoughout the year you'll find popular performers of stage and screen in a variety of venues across the city, such as The Grand Theatre and Opera House, and the adjacent Howard Assembly Room, home to Opera North.
Dance has always been an essential part of Leeds life, and we are lucky enough to have both the classical Northern Ballet company and the contemporary Phoenix Dance Theatre based here in the city. 
The Leeds International Film Festival is a major event on the world cinema stage with hundreds of screenings and events taking place over 17 days in November.
Enjoying amazing performances doesn't have to be expensive either. There are great discounts at the West Yorkshire Playhouse during the week, and annual free events such as Light Night offer everyone a chance to enjoy great entertainment.
The iconic Leeds Town Hall has an exciting calender of events happening throughout the year including concerts, film screenings, hilarious stand up comedians, educational events and more.
Located in the heart of the city centre, first direct Arena, plays host to an impressive line up of world class acts an events from live music and comedy to entertainment shows and sporting events.
Features:
The West Yorkshire Playhouse - the largest producing theatre outside London and Stratford.
The Stanley & Audrey Burton Theatre - home to Northern Ballet and an exciting programme of dance, comedy and music.
The Carriageworks Theatre - showcases the best new national and regional performances based on Millennium Square.
Attractions in Leeds
From our medieval roots to our more recent industrial one, the past really comes alive in our popular, award-winning attractions. The good news is, many of our attractions are free, so you can enjoy a full day of memorable and enriching experiences without it costing a fortune
Historic houses
Harewood House & Gardens, the family seat of the Earl and Countess of Harewood, is just 7 miles from the city centre, and set in glorious Yorkshire countryside. One of the treasure houses of England, the house was built in the 18th century and has collections to rival the finest in the land, plus an exciting calendar of events and exhibitions, over 100 acres of stunning gardens and renowned Bird Garden with exotic and rare species. The Tudor-Jacobean estate of Temple Newsam once owned by Henry VIII is home to Europe's largest rare breeds farm. Located just 4 miles from the city centre, and would make a great day out for visitors of all ages.
Lotherton Hall is a charming Edwardian country home with beautiful formal, wildflower and wooded grounds, a red deer park and one of the country's most impressive and important collection of rare and endangered birds.
Something different
Visit exotic creatures including meerkats, crocodiles, butterflies and bats in their home at Tropical World. Experience the rainforest heat without leaving Leeds!
Thackray Museum tells the story of medicine from the site of a former hospital. The museum provides a fun way to learn about the human body, in all its gory glory!
Take a stroll along the canal to Leeds Industrial Museum at Armley Mills, formerly the world's largest woolen mill, which also houses a charming 24 seater picture house within the museum.
Home to Britain's national collection of arms and armour, the Royal Armouries Museum houses a world-renowned collection of over 75,000 objects
Sport in Leeds
Whether you're here to support one of our local teams or visit one of the many international matches held in Leeds throughout the year, you'll love how easy it is to get close to the action. With rugby, cricket, football and horse-racing all here in the city, it's a sure bet that Leeds will win you over.
Rugby fans are spoilt for choice with both the rugby league World Club Challenge winners Leeds Rhinos, and the Leeds Carnegie Rugby Union both based at Headingley Carnegie Stadium. The facilities are family friendly, the tickets are great value, and the atmosphere is electric.
Cricket is historically connected with Leeds, as many of the world's greats have played at Headingley Carnegie Cricket Ground. It's home to the Yorkshire County Cricket Club and a number of fantastic international matches.
Leeds United, the city's premier football club are based at Elland Road Stadium. The legendary team, featured in the recent film The Damned United film, have a legion of loyal supporters intent on getting the team back at the top of the Premier League. Stadium tours are available, even on match days.
Wetherby Racecourse is one of the finest jumping courses in the North and many of the great steeplechasers and hurdlers of all time have graced it's turf. With special Ladies Day events and all under 16's granted free entry, it's a great day out for all the family.
The Grand Départ - Leeds was thrilled to be the host of the start of the two day leg of this world famous sporting event running throughout Yorkshire on the 5th and 6th of July 2014. This was the first ever Grand Départ hosted in our region and everyone got involved!
Landlords, are you looking for the right tenants to rent your property?
If you are a Landlord and you would like to discuss about our services we have to offer, please contact us on 0113 305 3344, email your enquiry or alternately email us with your contact details to request a call back.
Our Lettings Services
We love property and would love to hear from you. Every property is important to us so we aggressively market all of our properties on all major portals, our website and anywhere we see an excellent advertisement opportunity to target the widest possible audience.
Management service
Let only service
Free rental valuation
Property maintenance
Credit and reference check
Inventory service
Get in Touch
For general enquiries or to arrange a viewing, please contact our friendly staff on the number below or alternately send us an email. We look forward to hearing from you.
Tel: 0113 305 3344
Email: info@provisionproperties.co.uk
Monday to Friday 10:00am till 7:00pm
Saturday 11:00am till 4:00pm
Peak season extended opening hours